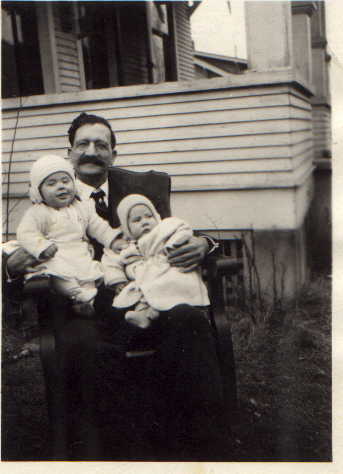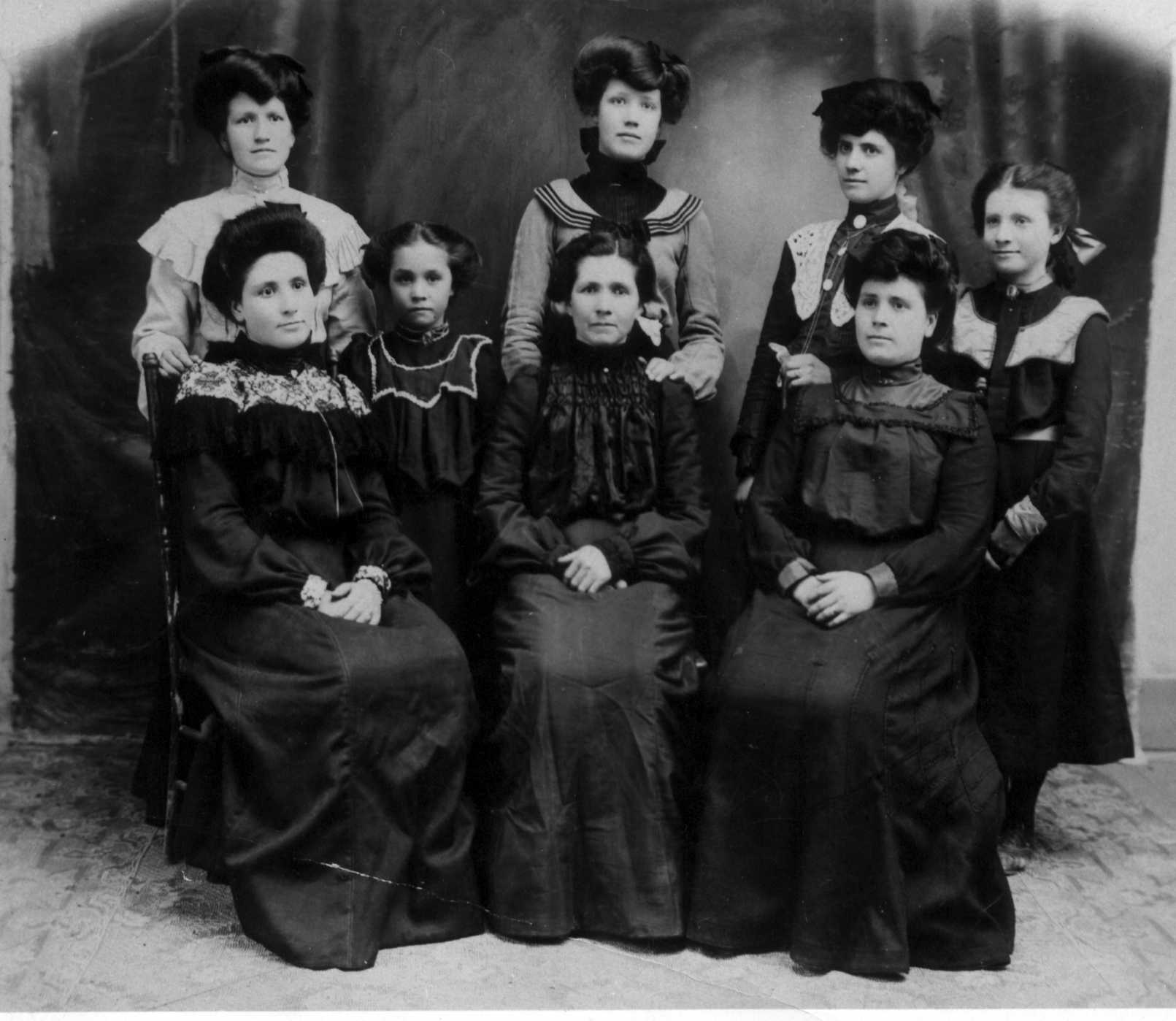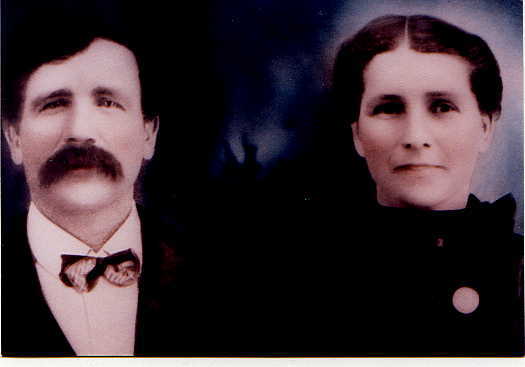 Maria Louisa Pickett Site

John Lee Briggs

FamTree Site

     Bulo Lee Briggs

             and

Susan N. (Susie) Gentry 

     Family Website

Welcome! To our Briggs family Website!  You will find history, family and photos here!  I am Roger S. Porter, great grandson of Bulo and Susie Briggs.  Email me at porterhouse88 at cableone dot net or just click the "E-mail Me" button for questions, suggestions or histories and photos to be added to the

site.    Meanwhile be sure to sign in, and......just Enjoy!  If you have

any difficulties loading pages or photos, please email me!

                                                                                          Roger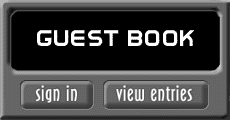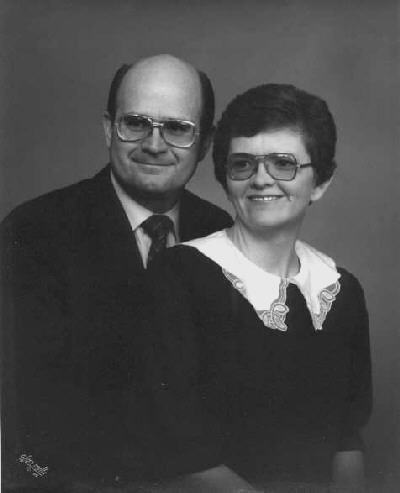 Roger and Earlene

         Porter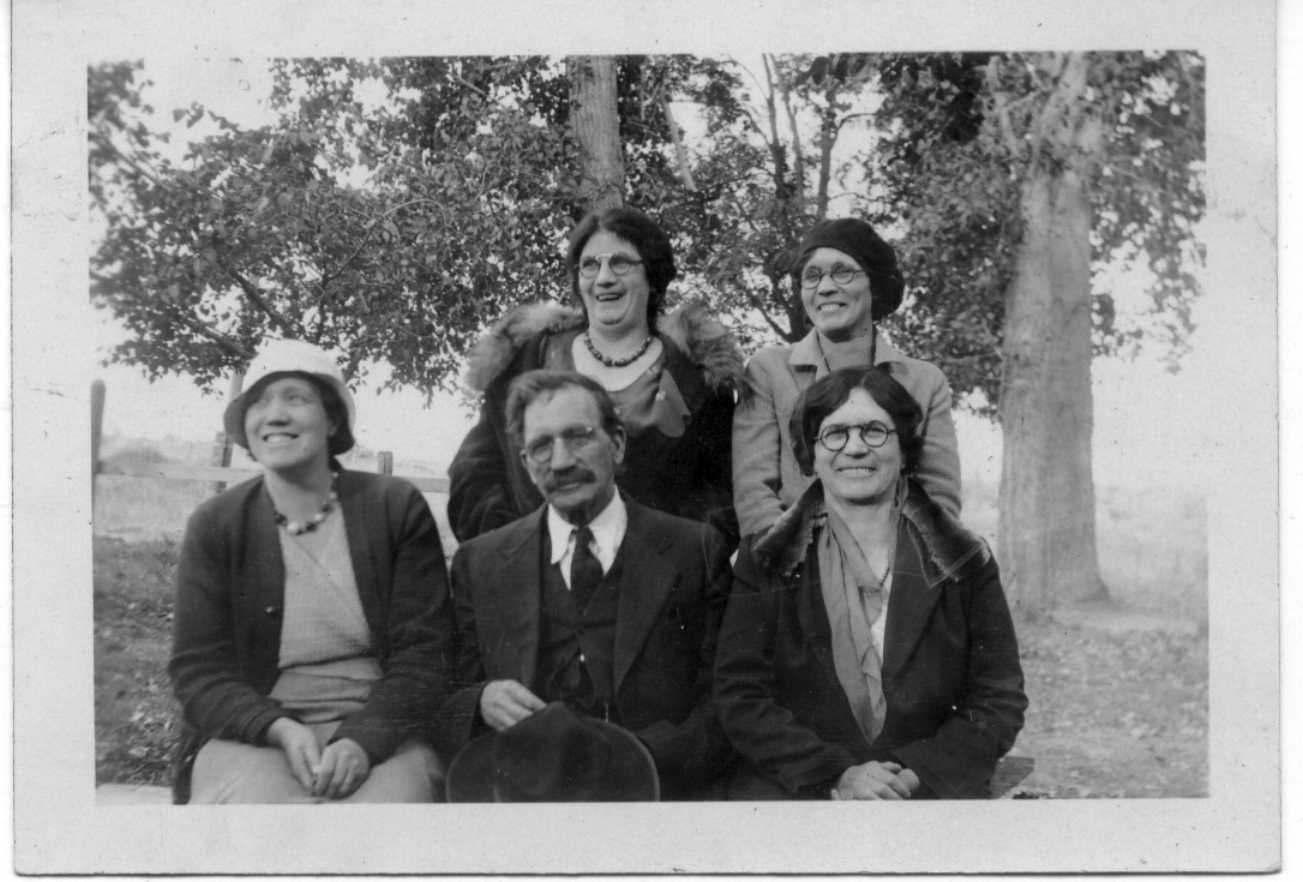 Susie Gentry Briggs and Daughters!

L-R: Top: Louella (Lou) Bailey Briggs Cummins, Ellare (Ella) Bertha Briggs Cranor Pence, Lillie Elizabeth Briggs Severe;

Young: Laura Elisha Briggs Blake Lusk, Sara Emily Briggs Cranney;

Bottom: Eliza Jane Briggs Bates, Susan N. (Suzie) Gentry Briggs, Dora Leona Briggs Pickett

Bulo Briggs and Daughters:

Back: (L-R) Lillie Severe and Laura Blake

Front: Ellare (Ella) Craner Pence, Bulo, Dora Pickett

Bulo Briggs holding

Kent Blackhurst and Enzley Pickett.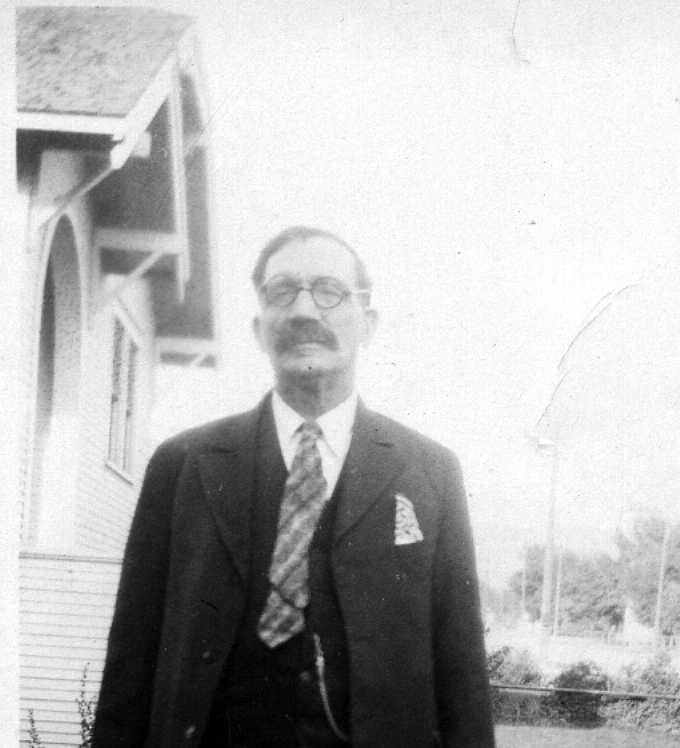 Bulo Lee Briggs        Susan N. (Susie) Gentry

Bulo Lee Briggs, born 1854, Yancey Co., NC, to John Lee Briggs and Anna Melissa Garland, when almost 23, married almost 18 years old Susan N. (Susie) Gentry, 15 Sept. 1875, in Flagpond, Unicoi, TN.  In September of 1890, Bulo and Susie joined the LDS Church in Tennessee.  He was a school teacher, and at 37 years of age moved his family of 9 children "out west" in 1891.  The family stayed temporarily in Oakley, Idaho, with A. Bates, who had been a Mormon missionary in the south. The last two children were born in Idaho and most of them joined the LDS church.  Bulo is said to have suffered from Depression, especially after Susie died in 1912. Their Children: Mary Jane Briggs (1876-1876), Celia Ann Briggs Adams (1876-1899), Dora Leona Briggs Pickett (1877-1956), Eliza Jane Briggs Bates (1879-1912), Oscar Lee Briggs (1882-1923), Lillie Elizabeth Briggs Severe (1882-1923), Louella Bailey Briggs Cummins (1885-1963), Ezekiel Lafayette Briggs (1887-1915),  Ellare Bertha Briggs Craner Pence (1889-1953), Sarah Emily Briggs Cranney (1891-1923), and Laura Elisha Briggs Blake Lusk (1894-1977).

He suffered two unhappy marriages after the death of Susie, along with some embarrassing legal problems when his second wife was exposed as still married to her first husband. The sad stories of his subsequent marriages are summed up in these newspaper articles:

"Wife, Bigamist, Claim, Divorce: Biggs gets annulment of marriage with woman who played him false: A decree of divorce this morning was granted Bulo Briggs by Judge W. A. Babcock of the district court. Briggs is about 52 years of age and sought annulment of a marriage brought about though correspondence procedure. The woman named in the complaint is Cora Briggs. A number of peculiar angles came out of the hearing connected with the divorce proceedings, the principal feature being the fact that the woman was a bigamist. It appears that Briggs, who lived at Marion, Idaho, made the acquaintance of a woman living in Colorado who stated she was a widow with three children. The pair met in Salt Lake in 1915 and engaged in nuptial contract, going to Marion to reside. It developed that instead of having three children the woman  was the mother of 12. This fact was overlooked by the new husband and domestic matters went along smoothly until the day there came a letter to one member of the family from a man in Colorado who proved to be the woman's undivorced husband. Briggs, on the stand, said he urged Mrs. Briggs to get a divorce from husband No. 2 and remarry Briggs. While this was being considered Briggs went to Burley to work in a beet sugar factory and when he returned home he found his wife and chattels gone. The fact was developed that Mrs. Briggs had sold the chattels and had taken the money to pay expnses of travel for herself and family to some other place. This occurred in 1913 and Briggs has made no attempt to bring back the runaway family. Briggs, in his testimony, told the court he had always given his wife a good home, denying her nothing, and a few days before the surreptitious departure had bought her a set of store teeth. Briggs charged desertion in his divorce bill of particulars."

Twin Falls News 5/29/1920

In March of that year, Bulo had been arrested himself on Bigamy charges because of the failure to properly get a divorce from Cora:

Baker (Oregon) "Bulo L. Briggs, aged 46 years, and living on South Ninth Street, Baker, was arrested Tuesday on the charge of bigamy, upon the complaint of his present wife, whom he married in Baker last October. The arrest was made by Deputy Sheriff George Herbert. The charge was occasioned by the publication in an Idaho paper of a notice that Briggs is now suing his first wife for divorce. Briggs says that his first wife died and that he married again. Wife No. 2 and her children are believed to live in Buhl, Idaho. A neighbor showed Mrs. Briggs No. 3 the notice with the result that the latter lodged the complaint which resulted in the husband's arrest. Briggs claims that when he married Mrs. Briggs No. 2 he did so in the belief that her former husband was dead. Later he says he discovered that his predecessor was living. Upon learning that he says he secured a "church divorce."'

Idaho Statesman, 3/19/1920

The 1920 US Census has him residing with his wife, Emma  Briggs, and her daughter Iva's (Rosco J. Bond) family in Baker Oregon. The 1930 US Census has him living with Bulo and Gladys Pickett in Declo, Idaho. Beverly's memory recited below probably occured after that time.

In March 2010, granddaughter Beverly Bjorkman Payne added her memories of Bulo: 

"He lived in an old railroad car in Declo. It was located on tree covered area just south of the main highway.  Other railroad car dwellings were there also. It was just one room with a bunk at one end, a table, a couple of straight back chairs, a hot plate and one cord hanging down from the ceiling with a dim lightbulb screwed into it. A very modest dwelling.

He often came to family picnics and that sort of thing. He was always dressed in a black suit and wore a black wide brimmed hat. His bushy mustache was also very black and he scared me to death. He would often coax me to come to him and would offer a piece of candy from his pocket. It was usually horehound and I didn't like that at all. Sometimes he had black licorice and I would take that because I liked it. ....He was probably a very lonely man.

As I recall, his daughters, though they might have been disgusted with him for the "women" thing, were very good to him. Grandma saw to it that we visited him and he had visits from other family members also. That is about all I can remember about him."

Apparently, after 1930, and to leave all that behind, he finally moved back near his siblings and cousins in Tennessee, and after visiting one in Greenville, he was killed when hit by a train in 1941 while walking back home to Erwin on the tracks.

(Cousins!  Please help me add to this life sketch!)

My Line of Descent !

Bulo Lee Briggs and Susie Gentry

   Dora Leona Briggs and Mannie Pickett

       Louisa Pickett and Sarel Orien Porter

            Roger Sarel Porter and Margaret Earlene Brown

Four Generations! Laura Blake, son Lloyd, grandson Gary, great-grandson, Tim (4 years old), taken the night before Gary left for Viet Nam!  

Click on links below to read histories, genealogies:

Go to Dora Briggs and  Mannie

Pickett Family Reunion Photos Page: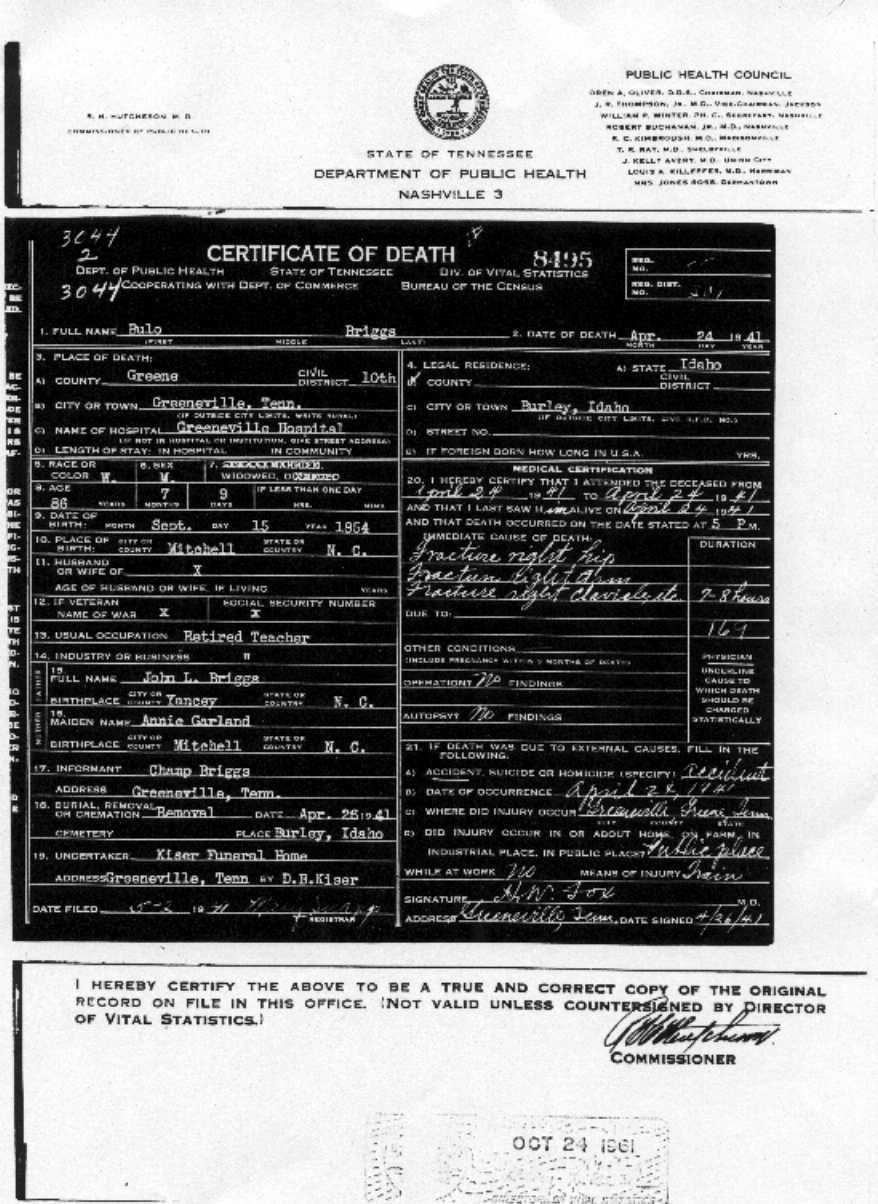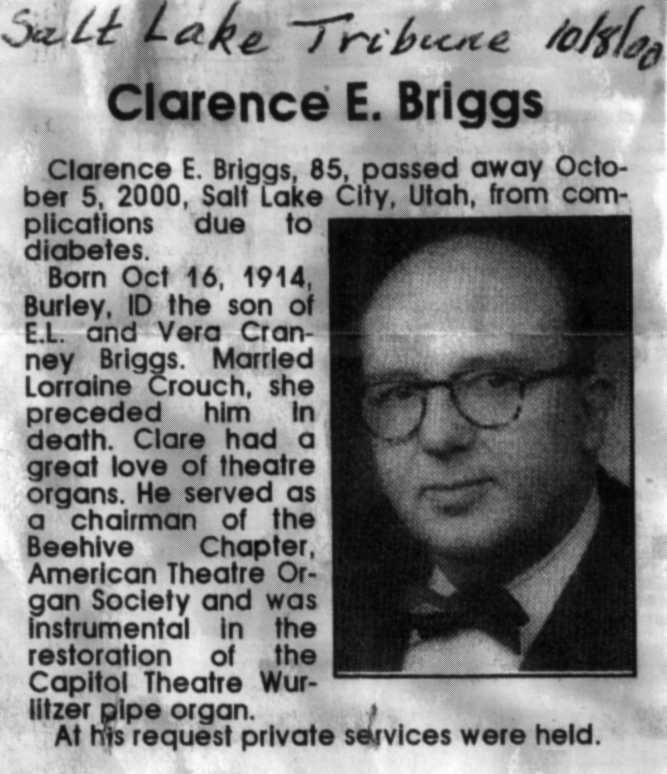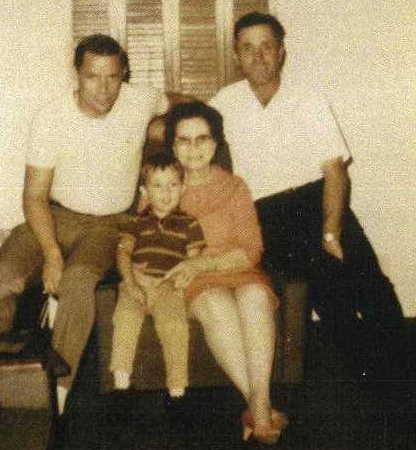 Go to Bulo Lee and Susie

Briggs Family Reunion Photos Page:

Go to  Mannie Pickett Family Page, from the Maria Louisa Pickett Site:

Briggs Site Index of Pages:

Click on Buttons to View Pages Cited Below:

Go to  John Lee Briggs and Anna Melissa Garland Extended Family Page:

(Includes photos of John Lee & Family!)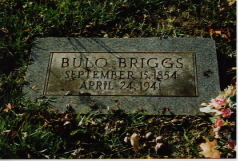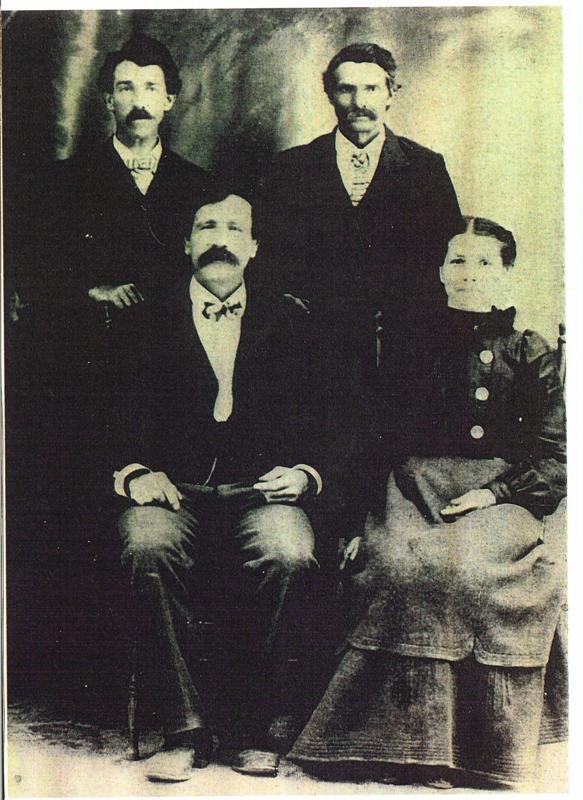 Standing: John Logan Briggs, William McIntosh

Sitting: Bulo and Susie Briggs

From Grace Bowen: The story behind the photo of Bulo, Susan, Logan and cousin William McIntosh is this....

As you are aware, Grandpa John Lee Briggs died a horrific death in Corinth, Missippi when he fell from the train....  the article stated he was traveling with his son (Logan) and nephew (William) when the accident happened....they were on their way to Idaho to visit Bulo and Susan.  After Logan and William saw to Grandpa John's burial, they continued on to Idaho where they gave the terrible news to Bulo and his family.  The four went to a studio and had this picture taken....thus we can date it to 1903.